Energia - Środowisko
Dodatek promocyjno-reklamowy do "RZECZPOSPOLITEJ".
21 grudnia 2005 r.


Elbląg
Potable water supply system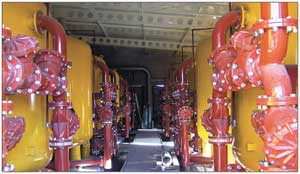 The project for "Potable water supply system in Elbląg" No. 2002/PL/16/P/PE/31 is executed by Elbląskie Przedsiębiorstwo Wodociągów o Kanalizacji Spółka z o.o. (EPWiK). In March 2002, the company submitted an application for EU funding to the European Commission and on 20 September 2002 the Financing Memorandum for the project was signed. The total value of the project is 17.125.248 euros (including eligible costs of 15.584.000 euros). The European Union assistance from the Cohesion Fund amounts to 9.350.400 euros, which represents 60% of the project's eligible costs. Moreover, in 2003 the project received co-financing from the National Fund for Environmental Protection and Water Management in the form of a loan worth 6.002.339 euros. The remaining cost will be covered from own financial resources of EPWiK which is the project's investor. The end beneficiary of the project is the Town of Elbląg.
Water which is currently supplied by the Elbląg water system does neither comply with the Polish standards nor with the requirements of the EU directive 98/83/EC of 3 November 1998 on the quality of water intended for human consumption. Unsatisfactory water treatment in water purification plants is caused by wear and tear on facilities and poor technology schemes. Water treated in these plants, which covers ca. 70% of the total water demand, does not meet quality standards: turbidity (up to 1.28 g/m3), hue (up to 20 g/m3), iron (up to 0.64 g/m3), ammoniac (up to 1.28 g/m3) and manganese (up to 0.42 g/m3). It should be noted that 51% of the total of 363.3 km of water supply network in Elbląg was constructed before the II World War. As a result of long use of many of its sections, the town's water supply network suffers from significant wear and tear and increased failure frequency. Moreover, there are occurences of secondary contamination of water and deterioration of its quality.
The project envisages four contracts:
Technical Assistance for project implementation
Contract Engineer
"Malborska" Water Treatment Plant and replacement of water supply network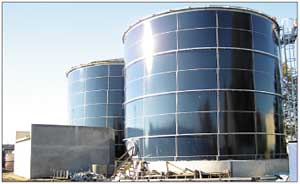 The contract worth 5.686.254,49 euros is executed by HYDROBUDOWA 9 from Poznań. It was launched in December 2004 and will be completed within 15 months. The task includes modernization and extension of "Malborska" Water Treatment Plant, repairs and development of "Częstochowska" potable water tank as well as replacement of water supply network in the town. Modernization of "Malborska" Water Treatment Plant will include introduction of a new technology based on water aeration in open systems, a two-stage water filtering at the speed of 9 m/h as well as emergency disinfection and water storage in tanks. The target capacity of the water treatment plant is 12.960 m3/day. Repairs will be carried out on the water storage tank and its capacity will be increased to 5.170 m3. Moreover, 11 km of the water supply network with the highest failure frequency will be replaced with new water mains made of spheroidal cast-iron.
"Królewiecka" Water Treatment Plant and extension of water supply network
This task includes modernization and extension of "Królewiecka" Water Treatment Plant (the target capacity of the plant is 15.000 m3/day); cleaning of water supply network (about 133 km) and replacement of network fittings; anti-corrosion protection of steel sections of the Szopy - Elbląg water mine (about 3 km), construction of "Modrzewina" water mine and introduction of a telemetry system for water production management and distribution. Tender will be announced in the nearest future.
The "Potable water supply in Elbląg" project will allow for:
treatment of Qmax.d = 27.980 m3/d of water and reduction of load fed into the supply network during the maximum daily water use by: total iron - 9.7 kg/d; ammoniac - 28.9 kg/d, manganese - 6.6 kg/d
elimination of water quality deterioration by means of modernizing the water supply network
water supplies to the planned Modrzewina housing district (15.770 inhabitants) and the existing Próchnik housing district (800 inhabitants) through extension of the water supply network.
The project will be beneficial for 97 thousand inhabitants of Elbląg.
ES